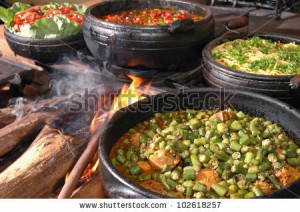 Thailand has many places that promote organic living and vegetarian diet. Many Thais, as Buddhist, believed that anything we eat impacts the way we think and how we process our thoughts. When the body is properly nurtured, pleasant thoughts occur and only then can inner peace be achieved.
Vegetarian foods use healing herbs and are traditionally prepared Thai style with lots of spices.
One of the most famous vegetarian restaurants in Thailand is the Santi Asoke in Bangkok. The vegetarian restaurant was founded and is managed by a Buddhist organization. The food's cost per serving is at normal Thai rate, very inexpensive and traditionally cooked.
Here's a short Video by Thai Law Forum about Santi Asoke, Vegetarian Restaurant in Bangkok.