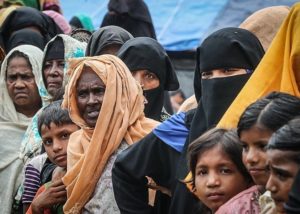 The United Nations High Commissioner for Human Rights, Zeid Ra'ad al-Hussein, called for allegations of atrocities committed against Muslim Rohingyas in Myanmar to be heard in the International Criminal Court (ICC).
According to numerous reports, Burmese authorities have systematically oppressed, discriminated against, displaced, and killed Rohingyas in the Rakhine state of Myanmar in an attempt to force them out of the country.
Zeid also urged Myanmar to allow independent monitors into the northeast region to investigate the suspected "acts of genocide" against the Rohingya. The UN's head human rights investigator in Myanmar has been barred from entering the country.
"What we're saying is…there are strong suspicions, yes, that acts of genocide may well have taken place. But only a court, having heard all the arguments, will confirm this," Zeid said in a press conference.
As of now, over 700,000 Rohingyas have fled to Bangladesh to seek refuge–with many providing testimony of rapes, executions, and other crimes against humanity committed by Burmese security forces.
Read the full story here.
Chaninat & Leeds is a Thailand law firm with decades of experience getting Thais and foreigners the legal help they need. For expert legal counsel, contact their professional Thai and US attorneys.