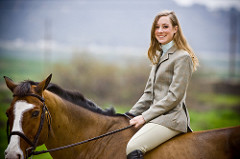 UK divorce law considers pets to be divided up in the same manner as assets, meaning the fight over pets such as horses are becoming a bitter part of divorces. Especially, childless couples who consider their horse as a surrogate child. Debbie Connolly, a pet behaviorist, says that separation from a pet can be just as upsetting as separation from a child and it is common for bitter partners to target pets.
Professional divorce lawyers in Thailand have successfully litigated hundreds of local and international divorce cases.
Issues arise over sentimental ownership of the horse and contested discussions over finances to take care of the horse. A British study shows that 75% of horse riders are female and that husbands in divorce will challenge the horse as a luxury.
High profile cases where the wife was awarded the steed includes wife of Ian Wright, a horse surgeon who was awarded a 450,000 pound mortgage free house that came with stables for her horses. Johnny Depp and Amber Heard's marriage ended with Heard having custody over the horse, dogs and $7 million.
Trallwm Farm Animal Sanctuary comments that they regularly receive pleas from concerned horse owners to hide their horses from their partners that might take them away during the divorce.
Read the full story here
Related Video:
Divorce Law: Pet Prenuptial Agreements
Image: Michael Chen