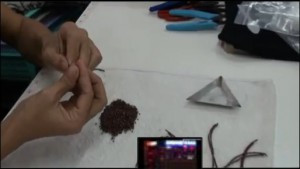 Women prostitutes in Thailand have found a quick and illegal way to make large sums of cash. Nana Plaza, Patpong, and Soi Cowboy are filled with women who have decided to sell their bodies to make an income that, for most, is to support a family.
But for those ready and willing to leave the sex industry there is an alternative. NightLight, an organization that has been addressing the lack of opportunities for women caught in Bangkok's sex trade.
"Most of the women share a similar story, they come from the northeast of Thailand, Isaan and they have family that they need to take care or that expect a certain amount of money sent home," said Sandy Flores, international sales and shipping support staff at NightLight. "There are certainly a number of women who if they had any other alternative they would come out which is what we've been offering is an alternative."
The NightLight Foundation has branches both in the US and Thailand with a jewelry business in Bangkok that offers employment and a non-profit sector focusing on holistic intervention for those exposed to the sex industry.
Twice a week NightLight staff go into Bangkok's bars where they form relationships with the women working there. While there are still a number of women who decide to stay many choose to break away and start a new life. Since the organization began over 125 women have been employed.
"The women that come to us are the women that hit the wall and understand that they cant do this with their bodies anymore," said Flores. "We find usually at the core no woman wants to be doing prostitution."
Broadcast at NightLight:

Related Prostitution Articles:
http://www.thailawforum.com/us-immigration-thai-sex-workers/
http://www.thailawforum.com/sex-crimes-in-thailand-part2/
http://www.thailawforum.com/blog/transgender-and-prostitution-news-roundup
http://www.thailawforum.com/blog/thailand-prostitution-as-prominent-as-ever