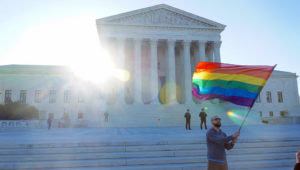 An anti-discrimination law that makes it illegal for businesses to deny service to same-sex couples based on religious grounds was upheld in an Arizona court on Thursday, according to the Denver Post.
The case was brought to court in 2016 by a stationery store who didn't want to create wedding invitations for a same-sex couple. The owners of the Phoenix store, Joanna Duka and Breanna Koski, argued that the city ordinance violated their freedom and religion and speech.
"Artists shouldn't be forced under threat of fines and jail time to create artwork contrary to their core convictions," their attorney, Jonathan Scruggs, said in a statement. "The court's decision allows the government to compel two artists who happily serve everyone to convey a message about marriage they disagree with."
The three-judge panel said the anti-discrimination law was not instituted as a means of suppressing speech, adding that "the case before us is one of a blanket refusal of service to the LGBTQ community."
The rulings comes days after a the Supreme Court ruled in favor of a Colorado baker who refused to bake a cake for a same-sex couple.
Read the full story here.
For issues regarding Thai family law, contact an experienced law firm with expertise in family affairs.