If you've seen the films The Hangover and The Hangover 2 (and probably even if you haven't seen them), you know that the movies feature an eclectic group of buddies gathering first in Las Vegas, and then in Bangkok, to celebrate the upcoming nuptials of a friend. Drunkenness, blackouts, and general hilarity ensue, finally concluding with the engaged friend in question being successfully married off.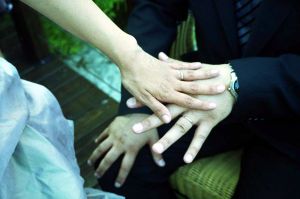 Yet with divorce rates climbing, and the numbers of couples choosing to tie the knot every year dropping, will booze-sodden pre-marital festivities soon lose the special mystique they hold for western culture? According to some statistics, only 51 percent of adults 18 and older are wed, up from 45 percent a mere decade ago. Our peers who do decide to marry are also waiting longer than ever to do so – the average age for marriage is now 26 for women and 29 for men. Even within the US military (an institution with famously low divorce rates) divorces and separations have increased.
Where's the love? A major reason for the increasing dominance of the single crowd is that many adults in the US and the UK are simply opting to cohabitate with partners, rather than become legally married (an same-sex marriage bans in the US actively prevent many same sex couples from tying the knot). Indeed, increased legal protections for cohabitating couples may soon rival the protections offered to married partners, making marriage as a practical procedure a thing of the past. Note, however, that Thailand law offers cohabitating couples virtually no legal protections, and that marriage in Thailand is the only means by which couples can gain certain legal protections, such as alimony after divorce and certain inheritance rights.
Increasing divorce rates in the US and the UK have largely been attributed to financial woes arising from the recession; within the US military, experts are blaming marital discord both on increased lengthy deployments, and the economic difficulties faced by spouses left behind in the climate of the US's economic downturn. The global recession also means that divorcing couples need to take particular care when negotiating a division of assets; for information on such proceedings in Thailand, contact a Thailand divorce lawyer.