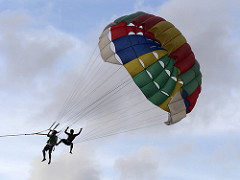 According to the Phuket Gazette, a Chinese tourist fell from a parasailing ride in Phuket earlier this week.
Zhao Jianying, 62, took the ride from Patong beach on Tuesday morning. During his ascent, the parachute was caught in the branches of a nearby pine tree and later collapsed, causing him to fall to the ground.
Chaninat & Leeds' Bangkok personal injury lawyers help persons who have been injured in Thailand to claim compensation.
He was taken to hospital, where X-rays showed he only suffered bruising. In July, an Australian tourist wasn't so lucky. Roger Hussey, a 70-year old businessman, fell to his death in a similar incident on Phuket's Kata beach.
Read the full story here.
Related Articles: Tougher Law Enforcement Required to Cut Thai Road Deaths

Image: Edgardo W. Olivera