It is thought that Thailand's rank on the illegal, unreported and unregulated fishing list (IUU) is not improving, even with the strict measures that have been implemented, reports The Nation.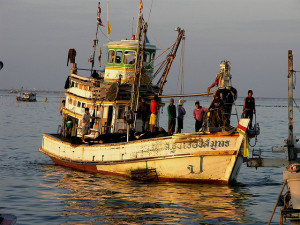 Image Credit: SeaDave (Flickr)

It's been four months of effort since April, when Thailand received a yellow card from the European Union. With the next ranking in October, optimism isn't high.
Joompol Sanguansin, director general of the Fisheries Department says: "We do our best on everything we can to tackle the IUU fishing, but the result of our efforts is up to the EU inspectors."
He added: "Our rank may not increase but I am sure that we will not be given the red card."
A number of controversial issues have arisen as a result of the measures. For example, many boat owners are now banned from fishing as their boats have been declared illegal, causing devastating effects for livelihoods.
Foreign Business Lawyers in Thailand Chaninat and Leeds are experts in advising and handling paperwork for foreign business owners in Thailand.
Vice President of the Thailand Fishery Association, Monkol Sukcharenkana explains:
"We are ready to comply with the government's policy but the fishermen need to sustain their families as well, so we ask the government for the full compensation in order to let them find a new job."
However, many still feel the government's policy is not strict enough, if it wants to pass the standards.
Banjong Nasae, president of the Thai Sea Watch Association, said:
"I can see that the government is earnest in tackling the problem but I am worried that many of the measures were not properly implemented and otter trawlers with very destructive fishing equipment were still allowed to operate."
Read the full story at The Nation.