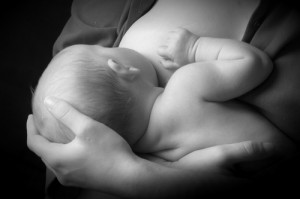 Woman's studies professor Adrienne Pine interrupted her very first lecture in her incoming American University class with a breastfeeding session. Pine had brought along her one-year-old daughter and when the child became fussy the professor "discreetly" fed her.
A few days later a student new assistant from the campus newspaper contacted Pine about the event. The professor replied that she "had no intention of making a political statement or shocking students" and that she did not want to be in an article.
When the student referred the request to her editor and faculty advisor, Pine published her own defensive version of the controversy.
Her essay was published in the left leaning website Counterpunch where she explained that, like many working mothers, she had been faced with a childcare crisis and that the baby was running a fever and could not be left at daycare.
She went on to say that breast-feeding in public is so essential a human right that the fight by women to do so undisturbed "has always seemed hopelessly bourgeois to me — those marauding bands of lactating white women who go to collectively feed their babies in places where the right to breastfeed has been called into question."
Although the student paper has not yet published anything about the "incident," a story about Pine's long rant appeared in Inside Higher Ed after The Eagle published student responses to Pine's commentary in a letters column.
Procedures for Adoption Thailand
The process of adopting children in Thailand varies depending on the nationality of the adoptive parents as well as the age and needs requirements of the child.