Calls are being made for amendments to animal rights laws in Thailand, following a social media storm over Milo the Phuket Zoo orangutan.
Milo has now been rescued, after she went missing from the zoo where she was kept in terrible conditions. It is believed that Milo was being kept at the zoo illegally, as no orangutan was officially registered there.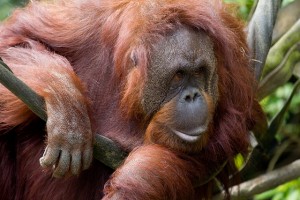 An orangutan in captivity (not Milo pictured) Image Credit: Randy Stewart (Flickr)

Now, an amendment to the Wildlife Preservation and Protection Act BE 2535 (1992) is being proposed, which will mean that those who possess animals named on the Convention on International Trade in Endangered Species of Wild Fauna and Flora (CITES) must have proof of the origin of the animal, as well as the permit for the animal. This is to be put in front of the National Council for Peace and Order this week.
Lawyers in Thailand Chaninat and Leeds are experts in a broad spectrum of Thai law, and have decades of experience handling sensitive cases both in Thailand and internationally
Metee Meechai, director of the Wildlife Conservation Office, Protected Area Regional Office 5 of the Department of National Parks, Wildlife and Plant Conservation (DNP), says:
"This isn't just about Milo in Phuket. We believe there are many more illegally owned orangutan in Thailand.
However, at this point we have no idea how many […] If you are in possession of one of these great apes, or know someone who is, please bring them to us. At this point, we can ensure that you will not face the full force of the law."
Read the full story here.