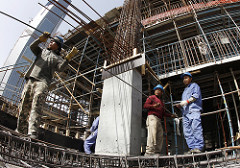 According to The Nation, there is a temporary suspension on punishments under the new law on foreign employees and migrant Workers.
The Executive Decree on the Management of Foreign Workers Act 2017 was announced in the Royal Gazette and came into effect in June this year. Under the new legislation, the penalty for employing a foreign worker without a work permit is a fine between 400,000 and 800,000 baht. For illegal foreign workers themselves, the punishment is a fine between 2,000 – 100,000 baht, or a prison term of up to five years.
Chaninat & Leeds have decades of experience in Thailand labor law and employment law
Employment Department director Waranon Pitiwan announced on Thursday that these punishments will not be enforced until 1st January 2018. This grace period has been given in order to avoid labor shortages, which could be particularly damaging for the construction sector. During this time, they will allow workers to obtain the proper paperwork.
Read the full story here
Related Articles: Thailand to Deport Illegal Migrant Workers
Burmese Migrants in Thailand: An Overview and Analysis
What are Your Employment Rights as a Foreigner Working in Thailand?
Image: ILO Arab States