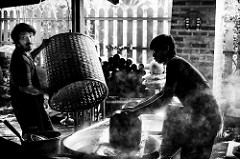 According to The Nation, the Department of Employment is set to loosen the restrictions prohibiting foreigners from obtaining work permits for 'Thai only' jobs.
Director Waranont Pitiwan said that Thai people are becoming less interested in these jobs, and therefore they should be opened up to foreigners. Next week, he's holding a meeting with representatives from various industries, including restaurant, tourism and construction, to discuss possible changes to legislation.
Chaninat & Leeds' lawyers have decades of experience in Thailand employment and labor law
Currently, 39 jobs are reserved for Thai nationals only. These include hairdressing, tour guiding, clerical work, and farming.
Read the full story here
Related Articles: Ten Year Retirement Visa Now Available

Image: Georgios Tatakis