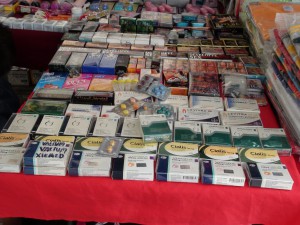 Because of Thailand's surplus of fake Viagra the government will now be selling an affordable generic version of the anti-impotence drug.
Named "Sidegra" and sold for THB 25 (80 U.S. cents), the diamond-shaped blue pill, similar to the original sold by U.S. pharmaceutical company Pfizer, will be available on prescription starting October 1.
According to the Thailand FDA the anti-impotence drug will solve "widespread production of fake drugs" by increasing accessibility to the legal version.
The FDA also stated that Pfizer has since looked to discount its pills by about 30 per cent to "cooperate with the government on curbing fake drugs."
The state-run Government Pharmaceutical Organization producing the drug said that Pfizer is selling at a discount to compete with Sidegra.
http://www.thailawforum.com/news/2011/news-Jun-11.html
http://www.thailawforum.com/news/2010/news-July-10.html
http://www.thailawforum.com/tourst-guide-laws-Thailand-4.html
Real Estate Law Thailand
Buying land or property in Thailand is attractive for investment or business reasons as well as residence or retirement purposes.