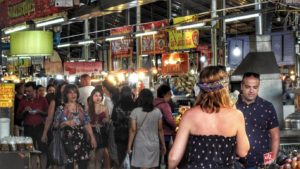 Four tourists were allowed to enter Phuket as part of a 'reopening trial' as a means to test the country's readiness in terms of handling tourist arrivals.
Due to COVID-19, Thailand has been closed to tourists since March, 2020 with the government regulating that only select few groups of people other than Thai Nationals be allowed in the country subject to 14 day quarantine.
Measures were taken in order to ensure the safety of Phuket citizens, with the Phuket Governor stating that tourists are necessary for the safety and success of the province. The plan has proved popular with other government bodies, which plan to expand the tourist scheme to the rest of Thailand, under a new 'Special Tourist Visa'.
Source: https://www.chiangraitimes.com/thailand-national-news/southern-thailand/four-french-tourists-allowed-into-phuket-as-part-of-a-reopening-trial/
Related Websites: https://www.gov.uk/foreign-travel-advice/thailand/entry-requirements