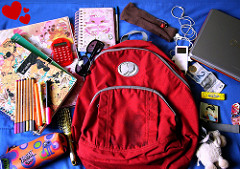 According to Wish TV, a mother from Virginia could face five years in prison after attempting to document her daughter's bullying with a digital recorder.
Sarah Sims had complained to Ocean View Elementary School that her 9-year-old daughter was being bullied. After being repeatedly ignored by school officials, she decided to take matters into her own hands, putting a digital recorder in her daughter's backpack in hopes that she could obtain proof of the bullying and of the school's lack of action to put a stop to it.
When the tape recorder was discovered by a teacher, the girl was removed from the class and Mrs. Sims was subsequently arrested. She was charged with using a device to intercept oral communication, which is a felony offense, and a misdemeanor for contributing to the delinquency of a minor.
Sims' attorney, Kristin Paulding, says that these charges, which carry up to five years in prison, pose a warning to other parents. "I think the community needs to know that this is happening because any parent out there that is sending their child to school now could be at risk", she said.
Chaninat & Leeds have assisted thousands of Thai-Western couples with Thailand prenuptial registration.
Read the full story here
Related Articles: New Law Against Cyber Bullying in Texas
Image: Lul