The defense lawyers for the two Myanmar men accused of murdering two British tourists in Koh Tao last year, have asked for more time to prove their clients are being used as scapegoats, reports Reuters.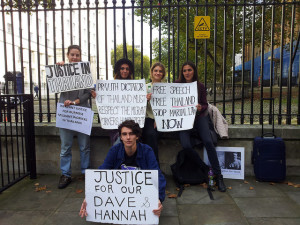 A protest in London. One sign reads "Justice for our Dave and Hannah." Image Credit: Burma Democratic Concern (BDC) (Flickr)

David Miller and Hannah Witheridge, both in their 20's were beaten to death a year ago while on holiday in the popular tourist island. Witheridge was also raped.
The Thai defense attorneys, who are representing Zaw Lin and Win Zaw Htun, argue that the pair have been framed by police, acting under pressure to find s a culprit.
The case has attracted attention worldwide, and is thought to have damaged Thailand's reputation for tourists, something that has most recently been attributed to the bombing at Erawan Shrine in Bangkok.
Erawan Shrine has become a household name internationally since the incident in August, with most people unaware of the fascinating superstitions surrounding, and fascinating history of Erawan Shrine.
Thai authorities are making moves to encourage tourists to Thailand, and restore dwindling numbers and a potentially damaged economy. Most recently it has been announced that a new Thai multiple entry tourist visa will be available from November.
See the full story here.