Beijing Official Compares Hong Kong Security Law to 'Anti-virus Software'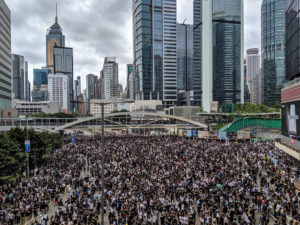 A prominent Beijing official recently stated that a planned security law meant to reign in the protests and unrest in Hong Kong will be like "installing an anti-virus software".
Specifics of the law, which was announced last month, are sparse but most expect the law to target what mainland Chinese officials describe as subversion, secession, terrorism, and foreign interference.
Most foreign observers and Hong Kong dissidents state that the law will be little more than an attempt to quash protests against mainland China's advances.
Protesters fear the law will get rid of the many freedoms and autonomy that residents of Hong Kong currently enjoy, and replacing them with the draconian tactics employed against dissidents, rights activists, and ethnic minorities on the mainland.
Zhang Xiaoming, deputy director of the Hong Kong and Macau Affairs Office, said however that the law will only affect a very small number of people in Hong Kong.
"The opposition camp … wants to turn Hong Kong into an independent or semi-independent political entity, a bridgehead for the external powers to oppose China and the Chinese Communist Party and a chess piece which external powers can use to contain China," Zhang proclaimed in a recent speech.
The proposed security law has already been approved by China's parliament.
Read the full story here.