Cody Wilson, Creator of First 3D Printed Gun, Arrested for Alleged Sex With a Minor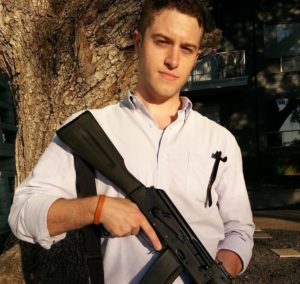 Cody Wilson, the libertarian icon and man behind publishing the world's first ever fully functional 3D printable gun blueprint, was arrested in Taiwan last week for allegedly having sex with a 16-year-old girl.
Austin, Texas police charged and arrested Wilson with allegedly sexually assaulting the minor in a hotel room on August 15th. Wilson initially met the girl on SugarDaddyMeet.com and paid her $500 after engaging in sex.
While in Taiwan–a country without an extradition agreement with the US–Wilson was grabbed by police after the US revoked his passport and tipped off the authorities in the country.
Whether Wilson's meeting with the young female at the hotel room was a sting by US authorities remains unclear.
But either way, Wilson has long been deemed a public enemy for law enforcement officials and politicians in the US after publishing his 3D printed gun blueprints for anyone to see and download.
The government took Wilson to court and argued that his design could be used by terrorists and other criminals.
Recently, the case against Wilson was eventually dropped by Donald Trump and Attorney General Jeff Sessions, however.
Read the full story here.