Fatty's Bar in Bangkok: Watch Video Interview with the Owners
by Jessica Gates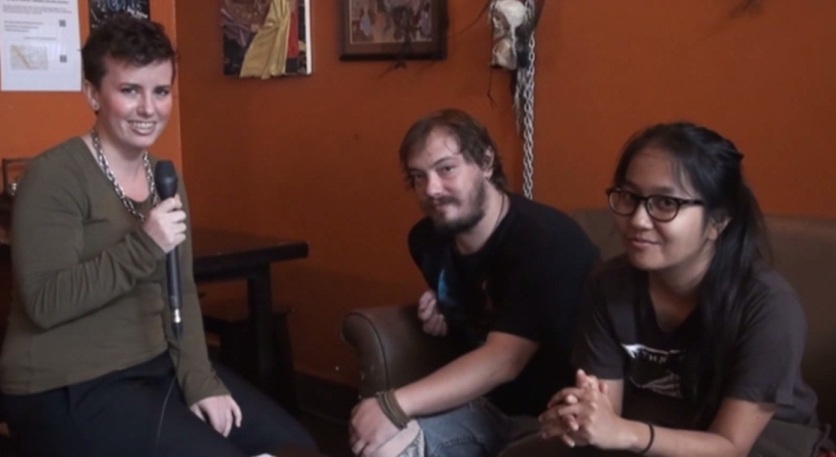 In the latest addition to Thai Law Forum's "Entrepreneurs in Thailand" series, the owners of Fatty's Bar and Diner talk about opening a live music venue and specialty food business in Bangkok and why a successful business is about more than just making a profit.
Matthew Fischer and Kae Maeboonruan opened Fatty's Bar and Diner in 2012 with an intentional focus on serving short order American food and supporting local musicians as a live indie music venue. However, their goal was not to become the next successful restaurant entrepreneurs in Bangkok or even to necessarily make a lot of money. Rather, they said they just wanted to open a bar in Bangkok where they could work together and create a "living room" for their friends and neighbors to play their music and "have a good time."
"Supporting real bands… that just want to play, that are writing their own music—that's huge for me because I think not enough people are doing it," Fischer, who is a musician himself, said. "I think that the music industry… is overrun by commerce. I'm just trying to shepherd some kind of a scene… that gives these kids a place to play and somewhere [for them] to feel like they can be honest about their own songs."
In addition to providing an outlet and venue for aspiring musicians, Fatty's has also generated buzz for its authentic American food. Making everything on the menu affordable for customers—and keeping it that way—was important to Matthew from the onset because offering burgers at a decent price was one of reasons that drove Matthew to open Fatty's. As small business owners, Matthew and Kae's commitment to keeping menu prices low and to the quality of their food sometimes forces them to sacrifice making money, which Matthew says is a loss they can afford "to keep a good product available."
"We don't do any advertising. We never really did set out to be a restaurant that was really well known. Even now, most of our clientele is our neighbors and we happen to be very lucky in the location and the fact that we are right next to a heavily populated area by expats," said Fischer. "A lot of people who come in here, they come back again, and another time because they feel like this part of their community, this is part of their thing, they discovered us."
And Fischer says that's really all that Fatty's is about—"real music, real food, and a good price."
To catch upcoming gigs, stop by for a burger or drink, or get more information about Fatty's Bar and Diner go to www.facebook.com/fattysbardiner.
Watch the video interview to learn the secret to Fatty's success: