Maya Bay to Reopen in November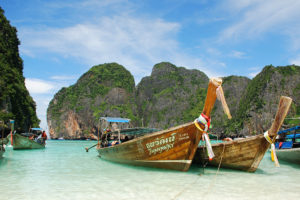 Maya Bay, perhaps Thailand's most famous beach, is set to reopen to tourism in November of this year.
Maya Bay was shut down in 2018 by Thailand's Department of National Parks, Wildlife and Plant Conservation after it was revealed that tourism was destroying the beach and reef.
During high season, upwards of 5,000 tourists would visit the beach each day.
Maya Bay, one of Thailand's most idyllic locales, rose to international prominence after the famous 2000 movie "The Beach", starring Leonardo DiCaprio, was filmed there.
Thailand's Department for National Marine Parks has been working around the clock since the closure to implement creative ways to preserve the beach's ecology while also being able to welcome tourists on a daily basis.
Newly designated boardwalks are being built that visitors will be required to walk on at all times so the beach doesn't sustain any more damage.
Boats will also not be allowed into Maya Bay itself anymore.
Now, boats will dock at a pier on the other side of the island and tourists will walk to Maya Bay itself.
Read the full story here.