Rescue of Thai Football Team Trapped in Cave Could Take Months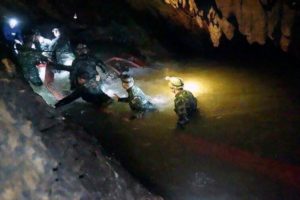 According to the Thai military, it could take months for the 12 boys and their football coach to be rescued after getting stranded in deep in an off-limits cave due to an intense rain that caused the tunnels to flood.
The Thai Navy Seals are planning to bring long-term food supplies and are considering teaching the kids how to dive so they can escape without having to wait for the rainy season to end. However, it has been reported that some or all of the boys cannot swim.
The boys, aged 11 to 16, were recently found by two British divers. They had been trapped in the cave for nine days.
Engineers have also been attempting to pump the water out of the cave system but it has been a slow process, thanks to consistent heavy precipitation in Chiang Rai province, where the cave is located.
If the boys are not rescued soon, they could be stuck in the cave for months waiting for the rainy season to end.
As of now, the diverse team of rescuers will continue draining the water while supplying the boys with food and diving lessons.
Read the full story here.