UN Alarmed by Thailand's Treatment of Human Rights Activists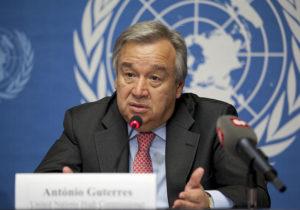 A report by UN Secretary General Antonio Guterres has named Thailand as one of 38 countries with alarming and shameful attitudes toward human rights activists in the country.
In Thailand's case, two separate incidents were specifically mentioned concerning the military junta's abuse of human rights defenders.
The first involved Maitree Chamroensuksakul, a Lahu indigenous rights activist who was the subject of government intimidation after meeting with a UN special rapporteur.
Maitree met the UN representative to push for justice in the case of Chaiyaphum Pasae, a 17-year Lahu activist who was shot dead by Thai authorities during an alleged drug raid.
Just days later after meeting with the special rapporteur Maitree was arrested for alleged drug possession and held in detention without access to a lawyer.
Activists and international organizations have accused Thai authorities in recent years for routinely using intimidation, disappearances, indefinite detention, killings, and other tactics to silence indigenous rights activists who are currently engaged in multiple land battles with the government.
The other case involved Sirikan Charoensiri, a Thai human rights lawyer who was charged with engaging in an illegal political gathering after representing 14 student activists who were arrested following the 2014 coup.
After testifying at the UN, Sirikan was further charged with sedition by the military government.
Read the full story here.