Belarusian Escort Standing Trial in Pattaya Says She No Longer Has Evidence of Russia-Trump Collusion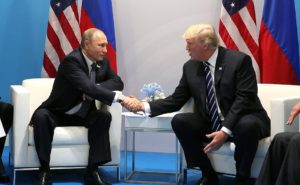 A Belarusian escort and model facing charges for solicitation in Pattaya, says she will no longer provide evidence she claimed to have of Trump-Russian collusion during the 2016 United States presidential election.
Anastasia Vashukevich and seven other alleged sex workers face up to 10 years in prison if convicted.
In a recent interview with the Associated Press, Vashukevich claimed that she handed over audio recordings to Oleg Deripaska, a Russian oligarch with close ties to Vladimir Putin.
She said the recordings provide direct proof of Russian meddling in the US election in order to get Trumped elected.
According to Vashukevich, Deripaska promised her something in return for her silence on the matter.
Vashukevich and the seven co-defendants are being charged with putting on a sex training seminar that authorities claim featured sexual intercourse and arranging other people to have sex, which is illegal under Thai law.
The organizer, Alexander Kirillov, said the seminar was totally based on the art of seduction and how to pick-up girls and did not feature any sexual acts whatsoever.
Read the full story here.