Czech Republic on the Brink of Legalizing Gay Marriage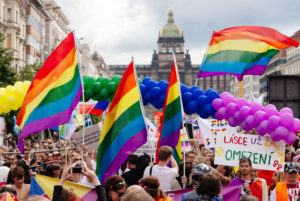 Following Austria's recent passage of gay marriage, the Czech Republic is set to become the first post-Soviet EU country to allow same-sex couples to get legally married.
The bill, which is currently being debated on by the Chamber of Deputies, looks highly likely to pass thanks to broad support from across the political spectrum in the former-communist country as well as overwhelming support from everyday Czechs, who are among the most progressive in Eastern Europe.
Back in 2006, the Czech government passed a civil partnership law, which gave same-sex couples most of the rights enjoyed by heterosexual marriages including healthcare, inheritance, and insurance rights.
But that measure still did not allow LGBT individuals in the Czech Republic to enter legally-binding marriages or to adopt children.
Now though, it looks as if the gay marriage bill will pass through the Chamber of Deputies before facing the Czech Senate, where it is also likely to pass.
According to Rémy Bonny, a political science professor focusing on LGBT issues and post-communist Europe, the passage of same-sex marriage in the Czech Republic could have a snowball effect on the rest of Europe's Eastern Bloc.
"Even in conservative countries like Poland and Hungary, a majority of citizens are in favor of equality for the LGBT-community."
Read the full story here.