Government Backs Down on Khao San Road Regulations, Vendors to Propose New Ones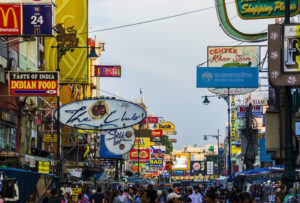 Just one week after Thai officials approved strict regulations on Khao San Road street vendors that caused outrage and a much more dead atmosphere on the famous tourist and nightlife strip, the government has relented and are allowing the vendors themselves to set the new rules.
The move is just the latest in a long saga by Thai authorities to relocate or shut down many of the city's most famous street markets in order to boost cleanliness and open up pedestrian sidewalks for foot traffic. Up until August 1st, Khao San Road had been spared by the government's mission.
But the enforcement of the new rules didn't last very long as they drew the ire of the street merchants as well as tourists and partiers.
Now, the sidewalk sellers and city officials will work in unison to come up with a viable plan to effectively regulate the clogging of the Khao San, while also maintaining its charm.
"Khaosan Road is an important tourist attraction. Everyone has to work together to come up with the most effective policy," said Deputy Bangkok Governor Sakoltee Phattiyakul. "Management by City Hall alone might not be efficient enough to promote it as an attraction."
Until new rules are drawn up, vendors will be able to operate on the street and sidewalks but only from 6 pm to midnight.
Read the full story here.