Popular Progressive Thai Opposition Leader Charged with Computer Crime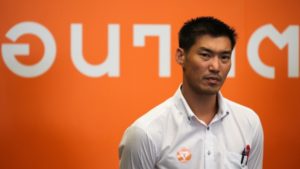 Thailand's ruling military junta, the National Council for Peace and Order (NCPO), have charged the popular leader of Thailand's progressive Future Forward Party under the country's draconian Computer Crimes Act, which could lead to up to five years in prison.
Thanathorn Juangroongruangkit, a billionaire rising politician, and two of his Future Forward party-mates are being prosecuted under the section that forbids transmitting false information or information that damages the country's stability online.
The Future Forward Party and Thanathorn, in particular, have garnered widespread popularity thanks to their social media presence and Facebook Live discussions that routinely criticize the junta.
Despite the Computer Crimes Act being used to stifle dissent regularly in the recent past and the stiff penalties it carries, Thanahtorn has promised to keep criticizing the ruling government, saying that it is the right of all citizens in a democratic country.
The exact charges that Thanathorn and his colleagues might face are believed stem from the party's attempt to sway other prominent politicians and former PMs to join the Future Forward Party.
Read the full story here.